SOAR Academy

Updated: Augst 19, 2018.
---
SOAR Academy
(Student Outreach and Academic Recovery)
There have been several outreach and dropout prevention programs in the district over the years. By far the most successful has been SOAR Academy. SOAR provides opportunities for young adults ages 14 to 20 to finish their high school education in an individualized and self-paced program. SOAR was launched in 2009 with just nine students and was originally located in the basement of Sheridan High School at 3201 W. Oxford Avenue. SOAR relocated to the east wing of the old middle school at 4107 S. Federal Boulevard on January 5, 2016 dubbed "Operation Daylight." Grant funds of $400,000 were used to repurpose the east wing.
Every applicant to SOAR must pass the "Engage" two-week orientation program. This sets expectations and policies for the student to succeed in SOAR. If an applicant is disruptive, disrespectful, uses excessive profanity, or if there is any indication of drug use, they will be removed from Engage. On the last day of Engage, students will be interviewed for their spot at SOAR Academy. If successful, they will be accepted into SOAR Academy and start classes the following Monday.
SOAR Academy recognizes that traditional education that is typically offered in a high school does not always meet the needs of students. To respect individual learning differences, SOAR offers a range of program options. SOAR Academy emphasizes direct instruction with smaller class sizes, a social-emotional learning curriculum, individualized credit recovery, and graduation plans. One-to-one tutoring support is provided through an extended weekday and Saturday programs. Also provided are skills-based intervention courses, post-secondary advisement, family engagement, and individual and group mental health therapy. There is a full time social worker on staff.
SOAR Academy has their own mascot which is the Eagles. Eligible students can participate in the sports programs at Sheridan High School. SOAR is very much part of the Sheridan family and is represented with their own Homecoming Queen and King at the Sheridan High School Homecoming football games.
Giving back to the community is an expectation for SOAR students, who help weekly at the Sheridan food bank, doing heavy lifting to aid the seniors who staff the program. In addition, SOAR students do all the serving at the annual Senior Day Luncheon.
As of October 2017, there have been 150 graduates from SOAR.
Principals:
| | |
| --- | --- |
| Michael Granderson | September 2009 - December 2014 |
| Barb Johnson | January 2015 - June 2015 |
| Christian Ramaker | July 2015 - June 2018 |
| Todd Legge | July 2018 - Current New: August 19, 2018 |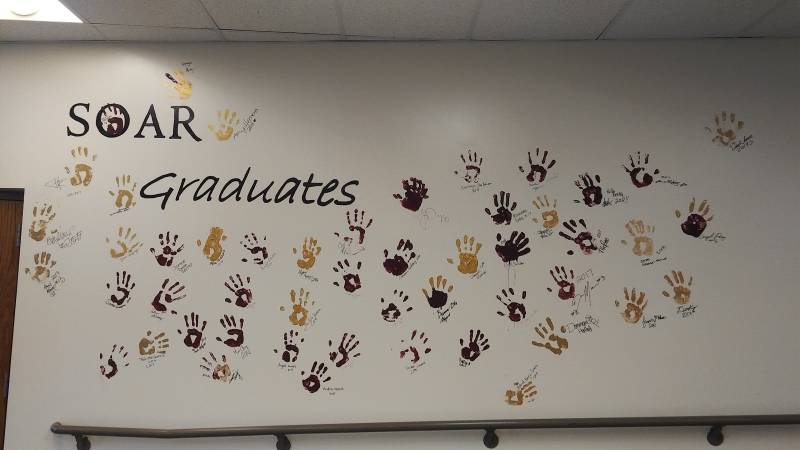 Picture on the north wall of the commons in SOAR Academy. Hand prints and the names of graduates from 2016 and 2017.
Photograph taken March 13, 2018.

---
Alice Terry / Fort Logan / Northgate / Maryville / Ora Oliver / Petersburg / Middle School / High School / SOAR Academy / District #2
About the Society
/ Board of Trustees / Historical Articles / Home Page
Meetings / Membership / "Sheridan Celebrates" / Sheridan Schools / Other Links
Copyright © 2018 by the Sheridan Historical Society, Inc.
All rights reserved.