Sheridan High School

New: April 25, 2019.
---
School Song
The original school song was written by the students way back in 1952. The song is sung to the musical notes of "Rouser."
Listen to Rouser, this link is a Microsoft wav file format 1.8 mb in size.
"Sheridan High School hats off to thee,
To our colors, true we shall ever be,
Firm and faithful, loyal to thee,
Rah, Rah, Rah, Rah!
Rah, Rah, Rah, Rah!
Hats off to Sheridan High!"
Alma Mater Song for SHS
The Alma Mater song was written by faculty member Larry L. Carre'.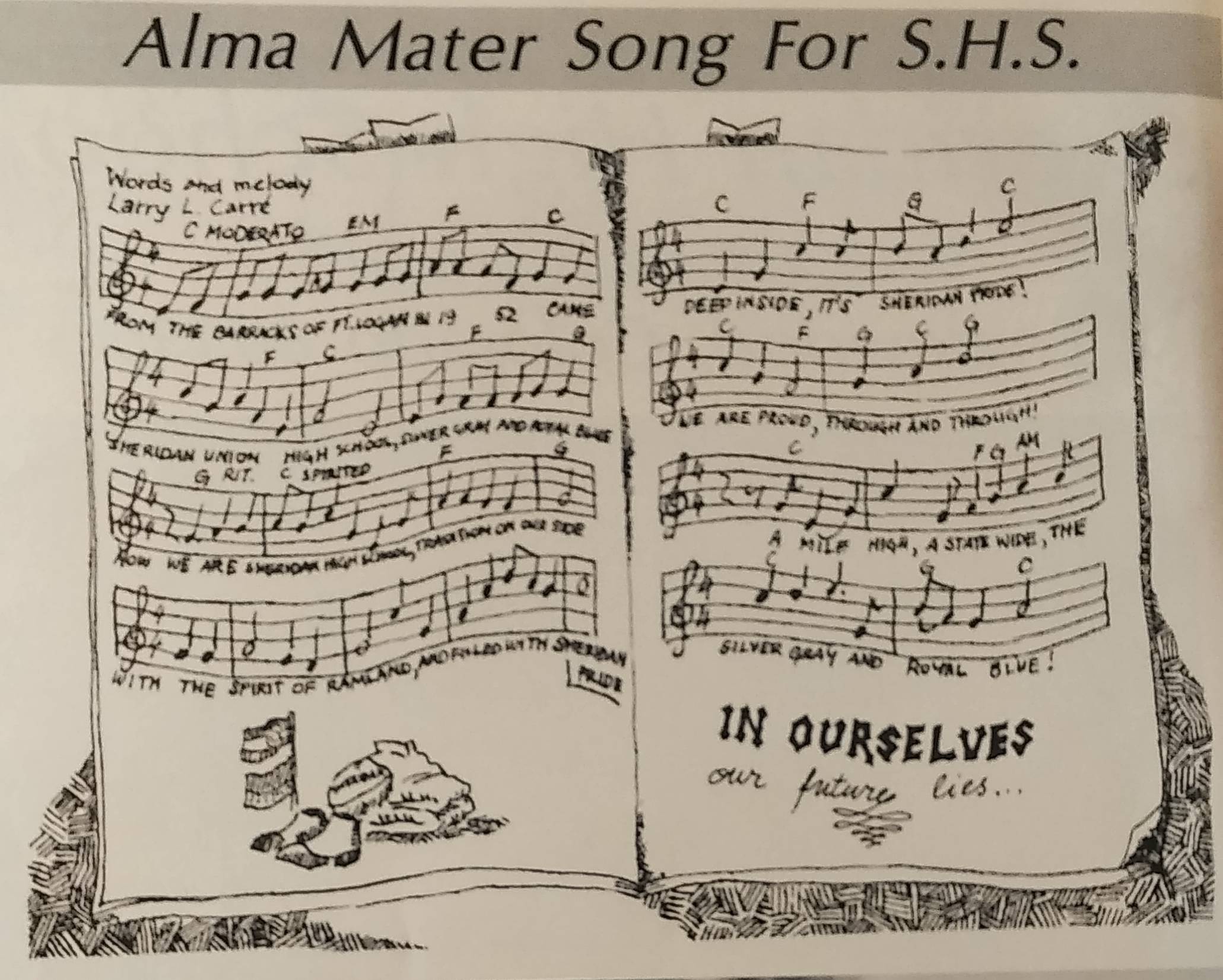 Sheridan Pride

From the barracks of Fort Logan
in nineteen fifty-two,
came Sheridan Union High School, silver gray and royal blue.

Now we are Sheridan High School,
tradition on our side,
with the spirit of Ramland and
filled with Sheridan pride!

Refrain:

Deep inside, it's Sheridan pride!
We are proud, through and through!
A mile high, a state wide,
The Silver Gray and Royal Blue!


Larry L. Carre'

From the 1984 annual.

Mr. Carre' was a faculty member from 1965 to 1987. Larry Carre' Bio
---
Alice Terry / Fort Logan / Northgate / Maryville / Ora Oliver / Petersburg / Middle School / High School / District #2
About the Society
/ Board of Trustees / Historical Articles / Home Page
Meetings / Membership / "Sheridan Celebrates" / Sheridan Schools / Other Links
Copyright © 2019 by the Sheridan Historical Society, Inc.
All rights reserved.