Dr. Vicky Brooks
February 7, 1934 - July 8, 2016
Updated: March 24, 2018.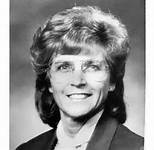 Dr. Vera "Vicky" Mae Brooks of Buford, Georgia, formerly of Littleton, Colo., passed away July 8, 2016 at the age of 82. Born Feb. 7, 1934 in Battle Lake, Minnesota, she was the daughter of Gilbert and Hazel Swanton. Mrs. Brooks, a resident of Buford, Ga. for the last five years also lived in Colorado for 49 years. Prior to her retirement in 1993, Dr. Brooks earned the distinction as the first woman superintendent of public schools in Sheridan, Colorado.
She spent 30 years serving others in the educational field as a teacher, assistant principal, principal and superintendent. Dr. Brooks earned three degrees from Western State College and in 1980 earned her Ph.D. from the University of Northern Colorado. She was awarded [Gunnison)Teacher of the Year in 1972, being recognized for her innovative teaching skills as well as serving as secretary of the Gunnison Colorado Education Association. She was an elementary teacher in Gunnison for ten years. She then became an assistant elementary principal and principal in Gunnison.
Prior to Sheridan, served as an elementary principal in Fort Collins. She came the Sheridan School Distirct in 1979 as the Director of Basic Education Skills Program, studying the effectiveness of Head Start on children's ability to succeed in school. This was a grant funded position. Later she became Assistant Superintendent focusing on curriculum and personnel policies. She became Superintendent in 1986. She said "I am pleased the school board took a chance and hired me for this position." She retired as Superintendent in 1993.
Throughout her distinguished career, Dr. Brooks had articles published in national educational magazines and the Denver Post. She also wrote manuals for individual mathematics programs for elementary schools. She was recognized for being an outstanding leader in the educational field. She married Dr. Gordon P. Brooks in 1979. He preceded her in death as well as her first husband Lee Howard Hall. Also preceding her in death was her son, Bradford John Hall, her sister Marilyn and her brother Donovan. Vera leaves behind her daughter Lisa Hardiman and son in law, Michael Hardiman and dear friend Jim Dorsey. A private service was held on Tuesday, July 12, 2016.
---
Alice Terry / Fort Logan / Northgate / Maryville / Ora Oliver / Petersburg / Middle School / High School / SOAR Academy / District #2
About the Society
/ Board of Trustees / Historical Articles / Home Page
Meetings / Membership / "Sheridan Celebrates" / Sheridan Schools / Other Links
Copyright © 2018 by the Sheridan Historical Society
All rights reserved