Sheridan High School

New: May 19, 2018
---
James F. Martin - Principal
1971 - 1982
June 15, 1926 - July 3, 2011
James "Jim" Franklin Martin was born on June 15, 1926 in Henrietta, Missouri the son of Bertha Lucille Martin. Jim grew up in Richmond, Missouri with his mother and stepfather Armond Synder.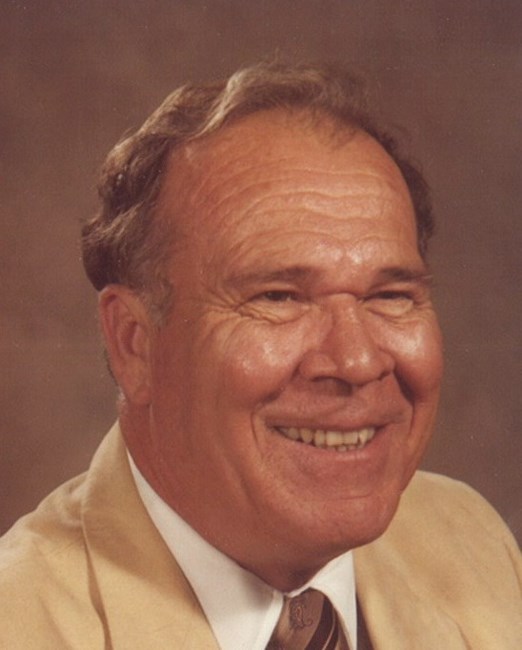 Mr. Martin enlisted in the Navy (under age) during World War II and served as an Electricians Mate and Petty Officer. He married is first wife Lorraine about 1946. It was a wartime romance and the marriage did not last. They had one son, James.
Mr. Martin received his Bachelor Degree in Education at Central Missouri State College in Warrenburg, Missouri. He was center on the football team. He attended on a football scholarship and also the GI Bill. He graduated in 1951. He married his second wife Martha Roach in 1950. They had a daughter, Toni. Martha was originally from Denver. Jim and Martha moved to Denver from Missouri in 1952.
Mr. Martin first came to Sheridan Union High School in 1952. He taught American Government, Drivers Training, Physical Education, and Social Studies. He coached baseball, basketball, football, and track at Sheridan. Mr. Martin was Sheridan's very first football coach and guided the team for ten years.
Art Wollenweber wrote the following about Jim Martin in 1987. "He ran the split T and belly series which was new to opposing schools and they greatly feared our attacks. During the first year of baseball, the team was coached by Jim Martin. This 'blue jeans and t-shirt' team played an independent schedule. The track team started in the second year of the school and was coached by Jim Martin."
He was the track coach for three years. He served as the Athletic Director and later as Assistant Principal. Mr. Martin was also a faculty sponsor of the "S" club (athletic letterman's club) and the Student Council. While teaching at Sheridan, Jim had returned to college and earned his Masters Degree from the University of Denver in 1959.
He left Sheridan in 1964. From there he became an Education Supervisor for the State of Colorado, overseeing the Lookout Mountain School for Boys and the Mountain View School for Girls. These were schools (detention facilities) for juvenile offenders referred by county or juvenile courts. Later he became the Assistant Principal at Ranum High School. He and his wife Martha were divorced in 1966.
Jim came back to Sheridan as the Principal in 1971. He was the principal when new the Sheridan High School opened in the fall of 1972. He was the principal for eleven years and retired in 1982.
Jim married Barbara Williams in 1978. He first met Barbara in 1952, when she was a teacher at Sheridan Union High School. Barbara taught typing and business classes at Sheridan. After his retirement, Jim and Barbara bought a ranch near Franktown, Colorado. Jim owned and trained thoroughbred horses at Centennial and Arapahoe Parks for twenty years. His wife Barbara passed away on June 27, 1989.
Mr. Martin passed away on July 3, 2011 from a stroke at age 85. He was a father, grandfather and great grandfather. He is survived by his uncle, Charles Martin; son, James (Cheryl) Martin; daughter, Toni Martin; step daughters, Margaret (Dave) Westfall, Bryn (David) Stewart; stepson Andy (Tia) Williams and numerous grandchildren and great grandchildren. Mr. Martin is buried at Fort Logan National Cemetery along with his wife Barbara.
---

Comments from students at Sheridan about Mr. Martin.
I was a student at Sheridan in the early 50's. Jim was a coach and teacher and was very popular among the students. He was my favorite.
I remember Mr. Martin for his kindness, friendliness, and warmth to all the students.
I graduated in 1958. Mr. Martin was the best! He was my drivers ed teacher and always good for a laugh. Our daughters graduated from Sheridan in 1983, and if not for Mr. Martin, I'm not sure they would have made it. He kept tight reins on them. I remember sitting in his office crying, because they were skipping school. His words with a pat on the shoulder "Don't worry …, we'll get them through." He was true to his word and they graduated. He will always have a special place in my heart.
Coach Martin taught me to drive! He was our Drivers Ed teacher. He was one of my absolute favorites. Coach Martin was fair and understanding and well respected. He projected a rough and tough exterior but he really was a softy.Jim Martin was my principal, I graduated in 1976. He was a very kind and fair person. I had a lot of respect for him. He will be missed but not forgotten.
---

Webmaster Notes: The Society wishes to gratefully acknowledge Toni Martin for her assistance with this article. Jim's daughter Toni and granddaughter have continued the family legacy as teachers. Photo courtesy of Toni Martin.
---
Alice Terry / Fort Logan / Northgate / Maryville / Ora Oliver / Petersburg / Middle School / High School / District #2
About the Society
/ Board of Trustees / Historical Articles / Home Page
Meetings / Membership / "Sheridan Celebrates" / Sheridan Schools / Other Links
Copyright © 2018 by the Sheridan Historical Society, Inc.
All rights reserved.