Sheridan High School

Updated: May 21, 2021
---
Academic Wall of Fame
Academic Wall of Fame Listing Updated: May 21, 2021.
---
The Academic and Athletic Walls of Fame were removed from the high school in the fall of 2017. All the pictures have been saved and are in the safekeeping of the principal. The school is working on an alternative method of displaying the pictures. It is anticipated the pictures will be restored when the new display is completed. This may be delayed if a new high school is built. The school district applied for BEST grant funding in March, 2018. If approved by the state a bond election will be held in November of 2018. If approved, it is expected a new high school would open in January, 2021.
---
Academic Wall of Fame in 2005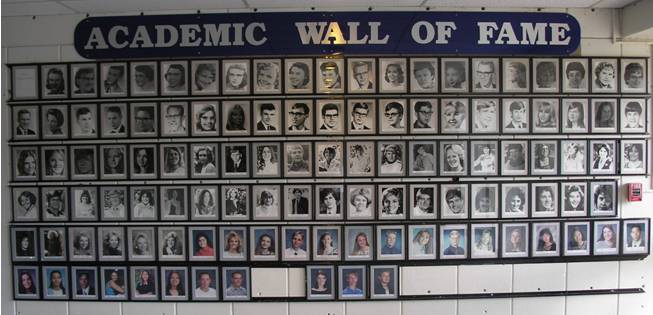 ---
The story of how Athletic Director Jenn Roberts-Uhlig single handedly saved the Academic and Athletic Walls of Fame.
Extracted from an article written by Sheridan alumni, Dawn Huskey (Class of 86) in 2010.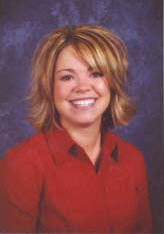 During the summer of 2008 the high school was under construction for the addition of the new wing. All of the pictures from the Academic and Athletic Walls of Fame had been removed by the construction contractors.
Jenn Roberts-Uhlig came in to school one Friday afternoon to find the entire Academic and Athletic Wall of Fame pictures boxed up and in a huge pile of construction trash. She pulled all of the boxes out of the trash and moved them to her office. Jenn was nine months pregnant at the time. Jenn's efforts caused her to go into early labor. Her beautiful baby boy was born on Saturday, now that is what I call dedication to tradition and school pride.
Jenn is a second generation Sheridan alumnus and a graduate of the class of 1997. After completing college she decided that she wanted to come back to the Sheridan School District to teach. Jenn has held many positions in her career at Sheridan since joining the staff in 2000. From elementary teacher for 2nd and 3rd grade, moving up to the middle school teaching English and health, and being a student advisor and finally moving up to the high school and becoming the Athletic Director in 2008. Jenn is now an Assistant Commissioner for the Colorado High School Activities Association.
"Once a Ram, always a Ram!"


---
Alice Terry / Fort Logan / Northgate / Maryville / Ora Oliver / Petersburg / Middle School / High School / District #2
About the Society
/ Board of Trustees / Historical Articles / Home Page
Meetings / Membership / "Sheridan Celebrates" / Sheridan Schools / Other Links
Copyright © 2021 by the Sheridan Historical Society, Inc.
All rights reserved.