Charles "Chuck" R. West
June 29, 1934 - February 19, 2018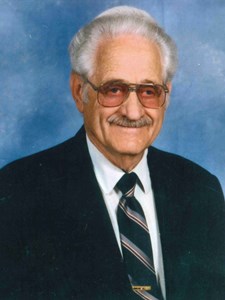 Charles "Chuck" Raymond West was born June 29, 1934 in Roaring River, Missouri the son of Vernon and Hazel West. He served in the military during the Korean War. He probably "fudged" on his age in order to get into the service. Chuck married the first time to Eva. They had one son North West.
Chuck moved to Sheridan in 1963, single and alone. Later that year he married Irma (whom had four of her own children and a niece she was raising). They purchased their Sheridan home in 1967. All of the West's "five children" grew up in Sheridan and graduated from Sheridan schools.
Chuck started working as a service station attendant for Hudson Oil. He changed companies and with his people skills he was promoted as supervisor for 21 Gasamat stations in three different states. He would finish as a regional manager for Asamera Oil Company. Chuck loved Studebaker cars, with one often seen at his home in Sheridan.
Irma passed away in 1998. Chuck then married his third wife Shirley. They lived in Strasburg, Colorado until Shirley passed away. Check then married his fourth wife Laura.
Chuck once said "I appreciate that Sheridan is a small town with a good mixture of residents who are young and old, as well as those coming from a variety of ethnic backgournds. We work hard in Sheridan to try and include all people in all activties." Chuck was particularily pleased with the hire of Devin Granbery as City Manager. "Granberry is a good fit for future Sheridan priorities ... and working with other organizations that support the city, both public and non-profit."
Chuck served as the City Treasurer two different times. He first served as Treasurer from January 1970 through December 1971. The second time he served from September 1982 through December 1982. The second time was after an embezzlement of city funds and great turmoil in the city government. Chuck stepped up when no one else wanted the job.
Chuck served on City Council three different times. First from January 1972 through Decmeber 1973. The second time from November 1997 through October 2001. The third time from November 2009 through October 2013. He is the only council member to have served in four different decades. He also served on the local Sheridan Sanitation District Board.
Chuck was part of the Sheridan Celebrates Committee for ten years starting in 1992. Later on he would be on the Board of Trustees of the Sheridan Historical Society for over sixteen years. He was on the Board at the time of his passing.
Chuck was still living in his Sheridan home with his fourth wife Laura until this past year. He is survived by his fourth wife, Laura West, children: Ralph Bird, Betty Lamb, Mary Edwards, North West, and John Bird. Several grand children, great grand children, great great grandchildren, and two sisters.

---
About the Society
/ Board of Trustees / Historical Articles / Home Page
Meetings / Membership / "Sheridan Celebrates" / Sheridan Schools / Other Links
Copyright © 2018 by the Sheridan Historical Society, Inc.
All rights reserved