Sheridan Historical Marker #2

This page was created: July 28, 2012.
---
This marker was placed by the Sheridan Historical Society on the south side of the Mary Carter (Mayor of Bow Mar) Greenway Trail bridge over the South Platte River east of River Point Parkway on September 17, 2011.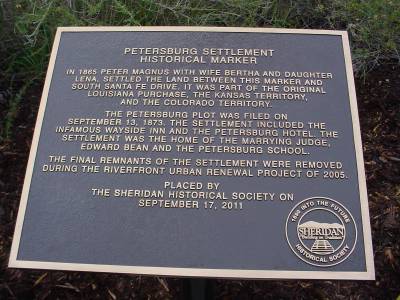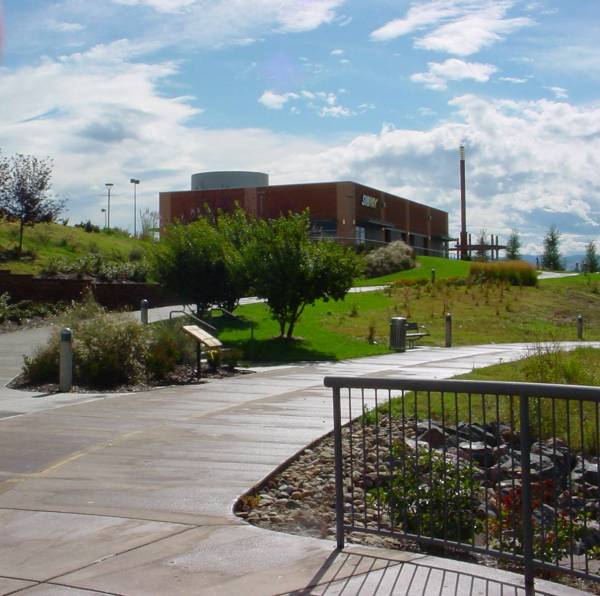 Overhead arial picture of marker location.
Text on marker #2:
"Petersburg Settlement Historical Marker
In 1865 Peter Magnus with wife Bertha and daughter Lena, settle the land between this marker and South Santa Fe Drive. It was part of the original Louisiana Purchase, the Kansas Territory, and the Colorado Territory.
The Petersburg plot was filed on September 13, 1873. The settlement included the infamous Wayside Inn and the Petersburg Hotel. The settlement was the home of the marrying Judge, Edward Bean and the Petersburg School.
The final remnants of the settlement were remvoed durng the Riverfront Urban Renewal project of 2005.
Placed by the Sheridan Historical Society on September 17, 2011"
---
About the Society
/ Board of Trustees / Historical Articles / Home Page
Meetings / Membership / "Sheridan Celebrates" / Other Links
Copyright © 2012 by the Sheridan Historical Society
All rights reserved