Sheridan Historical Marker #1

This page was created: July 28, 2012.
---
This marker was placed by the Sheridan Historical Society at the RTD Light Rail Station at West Oxford Avenue and South Windermere Street in July, 2000.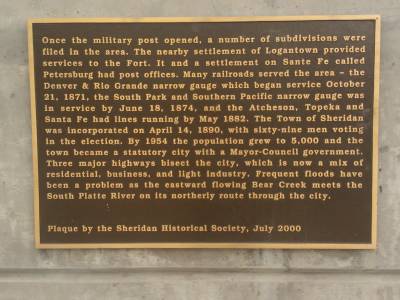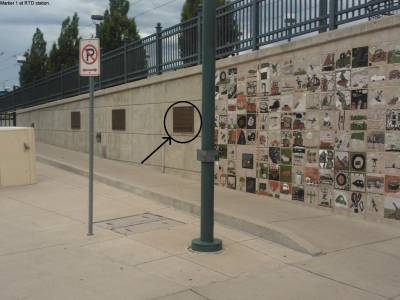 Text on marker #1:
"Once the miliary post opened, a number of subdivisions were filed in the area. The nearby settlement of Logantown provied services to the Fort. It and a settlement on Sante Fe called Petersburg had post offices. Many railroads served the area - the Denver & Rio Grande narrow gauge which began service October 21, 1871, the south Park and Southern Pacific narrow gauge was in service by June 18, 1874, and the Atcheson, Topeka and Santa Fe had lines running by May 1882. The Town of Sheridan was incorporated on April 14, 1890, with sixty-nine men voting in the election. By 1954 the population grew to 5,000 and the town became a statutory city with a Mayor-Council government. Three major highways bisect the city, which is now a mix of residential, busisness, and light industry. Frequest floods have been a problem as the eastward floowing Bear Creek meets the South Platte River on its northerly route throught the city.
Plaque by the Sheridan Historical Society, July 2000"
---
About the Society
/ Board of Trustees / Historical Articles / Home Page
Meetings / Membership / "Sheridan Celebrates" / Other Links
Copyright © 2012 by the Sheridan Historical Society
All rights reserved