Charles W. Herman
Written by Roger B. Rowland
With assistance from Charlotte Herman
Charles W. Herman was born on March 2, 1916 in Indianapolis, Indiana. His parents were Alger Deforest Herman and Buehlah Grace Clauer. His wife Charlotte was also born in Indianapolis.
"Some years passed, and a tall, lean Charlie Herman, 14 years old, was coming down Oakland Avenue in Indianapolis. He was sitting on the seat of his bicycle with his feet on the ground walking the bicycle like a kiddy car rather than using the bicycle pedals. Tied to the Catalpa tree in front of her house was a 7 year old Charlotte Doll. Charlie dismounts his white charger, unties the damsel in distress…"
"Prior to the rescue Charlotte's brother Harry had been assigned the duty of baby sitting his little sister. Harry talked Charlotte into playing cowboys and Indians. The Indians tied up the captive, and rode off to adventures more enjoyable than baby sitting. After they had been married a while, Harry asked Charlie several times if he should have left her tied to the tree. Charlotte's other brother and good friend of Charlie, told Charles 'I be you never thought you would marry that snotty nosed kid."
Charles went to high school with Charlotte's brother Frank at Arsenol. Arsenol Technical High School was a vocational school. There were 1,000 students in the class. The graduation ceremony was held at Butler University. The girls had to wear formals and the boys wore business suits. The ceremony was in the evening. It was a two hour ceremony. Charlotte exclaimed "Oh's there's Charlie Herman too." Her mother said he was in the class too, don't worry. The graduation was held in 1934. Charles never had an opportunity to go to college. Charlotte said "He had the school of hard knocks and was mechanically inclined and got into electronics."
The Great Depression
1934 was during the "Great Depression." It was hard to get jobs. Charles could work on jukeboxes and cigarette machines. Charles worked for Jane's Musical fixing jukeboxes. He was paid $20 a week and thought he was earning a lot of money. The very first job he had paid 25 cents an hour.
Charles started dating Charlotte in 1942. Both were working at RCA. Charlotte did not finish high school. In her senior year, Charlotte was a credit short because two of her classes were a half credit. She got so mad she never went back and instead went to work at RCA. Charles was working as a technician at RCA. Charlotte worked on putting together speakers for the navy. Charles checked the work inside the speakers.
One day, Charles came over and said, "Aren't you Charlotte Doll?" "And I said yes." Charlotte said "I know who you are, you went to school with Frank." Charles responded "Yep, would you be able to go roller skating with me tonight." Charlotte said "ya." His mother had kept Charles out of the service. The military said if he got married, he can go into the service. Charles and Charlotte were married on February 11, 1944.
"After Charles and Charlotte had married, Charlotte's parents hosted a dinner so that both families could meet each other. Charlie's mother sat next to him and Charlotte sat directly across the table from her new husband. Being flippant, Charlotte said to her new husband, 'Charles flip me the butter.' Charlie reached over, got a slice of butter off the butter plate, held the knife up, pulled the tip of the blade back and released the pad of butter. The butter flew across the table and hit Charlotte right square between the eyes. Charles mother said, 'Charles' in a voice of horror. Charlie replied, 'I was only being a dutiful husband and doing as she told me."
World War Two
Charlie went into the service on March 1, 1944. Charles was inducted into the Army and became a member of the Signal Corp. Charles did wiring in the Signal Corp. The induction was in Indianapolis. Three days later he was shipped to Louisiana. From Louisiana, he was sent to New Jersey. Charlotte took her first ever train ride to New Jersey to join Charles. This was the first time either had left Indianapolis. Charlotte left the station at 1:00 pm and arrived the next day at 3:00 pm.
Charlotte was pregnant and returned to Indianapolis by Christmas. While in New Jersey, they experienced a hurricane. The camp was let out early. Charles came home wet. He had gone down to the ocean to see the hurricane because he had never seen one before. "He was drenched." He only had two uniforms and Charlotte had to clean them before he could go back to camp.
Charles left for Okinawa two days after Christmas. He could not tell Charlotte what was happening. Charlotte got a letter in January. The letter was censored, with a hole cut out in the letter. Charlotte found out through a captain's wife they were in Okinawa. While in Okinawa, Charles helped to do the clean up and rebuilding of communications in Okinawa. Their son, Tom was born on June 10, 1945 while Charles was gone. Charlotte had to take the baby to a professional photographer in order to get a picture made and sent to Charles. Occasionally, Charlotte could talk to him long distance and she also received wires from Charles. Their next child, Alice was born in 1949.
After his time in the service, Charles returned to Indianapolis. They looked around for a house to rent. His mother was living in a duplex. The people next door were planning to move. The landlord said they would not be there long. They needed to make a deposit before they could move in. Charles did not have enough money for the deposit. Charlotte had earned a dollar an hour while she was working. She gave her parents half her wages while she worked. Charlotte saved the other half and never touched it. Charlotte had enough money to make the down payment. They bought the duplex for $7,000. You could see through the front door to the back door. There was a bath. The toilet filled when you sat down. When you stood up the toilet flushed. They lived there until 1953. Charles' father helped Charlotte do the laundry when she was pregnant. He would carry the water in for the washer.
In 1953, they went to Albuquerque, New Mexico. Their daughter was three years old. "We told her we are going over to see grandma and grandpa. But mother and daddy wanted to tell them we are going to Albuquerque." Alice ran into the house and told grandma and grandpa "We are moving to Albacracker." Charles said "tell kids not to say anything and they will tell anyway."
Moving to Sheridan
Charles got a job at the Sandia base and worked there for two years. Then he got a job in California. The house in Albuquerque was brand new and real nice. Later, Charles and Charlotte lived in California for two and half years. One day, Charles came home and said, "We are moving to Colorado. I've got a job with Martin Marietta." So they moved to Colorado in 1957.
They lived on Miller Street while their house is being constructed on South Hooker Street. Charlotte said she "wasn't moving no more." Charles had seen Colorado in the 1930's when he was in the Civilian Conservation Corp. He had also worked in California and Idaho while in the CCC. Charles learned to drive a truck in Idaho. Charles did all the electrical work while working in Idaho.
The house on Hooker Street was supposed to be ready in June. The cement workers were on strike, which delayed the completion of the house. They finally moved in on August 26, 1957. They never moved again. Part of the reason Charles wanted to come to Colorado was his interest in the history of the narrow gauge railroads.
Their kids went to Fort Logan School. Alice was in elementary and Tom was in junior high at Fort Logan. Tom's teachers included Mrs. Eardley and Jim Taylor. Tom graduated from the old Sheridan High School in 1963. Alice graduated four years later.
Community Service
Charles was elected to the school board and served one term from May 1969 to May 1973. Charles was always interested in schools and vocational education. He always tried to help kids. He was on the board after his kids had graduated from Sheridan High School. They both graduated from the old high school building, which is now the middle school.
The swimming pool was completed and the new Sheridan High School on Oxford Avenue was built, while Charles served on the school board. Charles introduced the resolution that set the bond election for the new high school. The bonds totaled $1,670,000. On February 9, 1971, Charles was appointed as the Sheridan representative to SEMBCS. That is a vocational school cooperative for school districts in the southeast metro area of Denver. He remained the Sheridan representative through the end of his school board term. He introduced a "Code of Ethics" for the school district and made the motion to change the high school back to four grades when the new building was completed. (1)
Charles also served on the sanitation district board for 33 years. People were complaining about the board. An election was held and Charles was elected. Charles was always political, including his time in Indiana. Charles registered Charlotte as a Republican without asking. Charlotte's parents had a fit, as they were staunch Democrats. Charles was the secretary of the sanitation board. At one time or another he handled all of the different duties of the board.
Charles never talked about his work at Martin Marietta. The family had been investigated before Charles was employed at Sandia. They were investigated again before Martin Marietta. He was an aerospace engineer.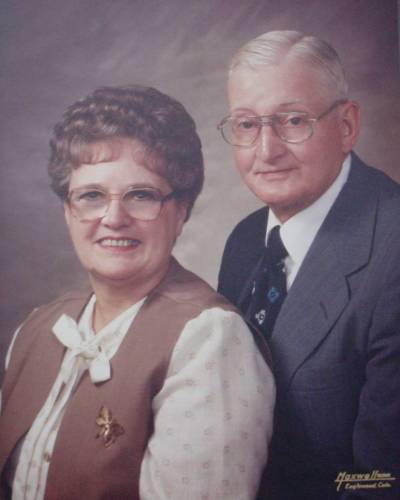 The picture shown on the left of Charlotte and Charles was taken in 1979. Charles and Charlotte became precinct committee people for the Republican Party at the suggestion of Betty Ann Dittemore during the 1970s. That ended sometime after ten years of service. Charles had attended several Republican State conventions.
Charles retired from Martin in 1985. He was suppose retire at 65, but they did not catch up with him until 68. They kept asking him to do projects. He would say "Ya, I can do it. He'd get done before anybody else did." So they finally called him to the office and told him, he had to retire.
Charlotte retired from the state in 1988. That was about the same time Charles got involved with the City and DRCOG. Charles always referred to DRCOG as "Spacley's Sprockets." Charles watched the Jetsons all the time.
City Council
Back in 1988, Charles came home and told Charlotte he was on city council. Charles served on city council for ten years. "They had a surprise recognition for him up at City Hall." The Mayor at the time, Dale Patton called Charlie forward. Dale said, "There is one thing I want to tell you. Charlie Herman was on council for 10 years. And for ten years, he took his money and gave it back to the different departments." Charlie had not told anyone he was doing this including his wife Charlotte. Charles said he did not need it and had enough from his retirement. Over the years, this amounted to several thousand dollars.
Charles hobbies were model railroads and auto rebuilding. He also worked on a pipe organ in Henderson, Colorado. That helps to explain the pipes on the organ and against the wall in their home. Charles had worked in hobby shops while he was Indiana. He also worked in a hobby shop in Englewood every Christmas and during the summer months.
After his time on city council, Charlie stayed at home because of health problems. "He was a good father and a good husband." "I had 57 wonderful years with Charlie." Charles was 84 years old when he passed away on February 24, 2001. He was interned at Fort Logan National Cemetery.
___________________
(1) From Sheridan school board minutes, 1969 - 1973.
---
About the Society
/ Board of Trustees / Historical Articles / Home Page
Meetings / Membership / "Sheridan Celebrates" / Other Links
Copyright © 2001 by the Sheridan Historical Society
All rights reserved