Bartholemew Vincent Hegarty
September 17, 1924 - May 18, 2015
This article was included in the "Sheridan Celebrates" booklet from September 26, 2015.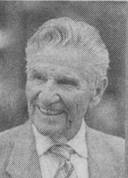 Bart was born to John & Lillian Hegarty in Ballina Ireland. When he was five years old his family immigrated to America in 1929, settling in Skokie, Illinois, a suburb of Chicago where he was raised. He attended the Niles Township High School and participated in football, baseball, basketball, student government and the Glee Club. In 1943, he served three years in the Army Air Force, during WW II as a Cryptographer, rank of Corporal, He was stationed primarily in New Guinea and received several medals including two Bronze Stars.
After the war he attended and graduated from the University of Illinois Urbana-Champaign (Delta Kappa fratern nity), with an Insurance degree as the founding President of the Illini Insurance Society. Vince began work as a Fireman's Fund Special Agent in Iowa and, after a couple of years later, he relocated to beautiful Colorado. During this time he met his future wife Lucine Adele Ostmeyer, whom he married in 1952, but who sadly passed away from cancer in 1961. Soon after his marriage to Lucine, he chose to open his own business which later became Insurance of Denver, Inc. and later included his son Shawn, celebrating its 50th anniversary in 2007. He supplied to the City of Sheridan their general insurance. At one time the independent agency was one of the larger independent agencies in the region. After his wife passed, Bart's mother Lillian came to Colorado to help raise his five young children, ranging in age from one year to seven years old. In 1989, Lillian passed away at the age of 91.
To teach his children about commerce, in 1970 he purchased a 30 foot tall, 12 lanes, huge fiberglass commercial "Sky Slide". His five children took turns operating the Sky Slide as a business during their summers from 1969 to 1982 at Lakeside Park, Colorado before they went off to college.
Bart was known for his participation as a little league football assistant coach, the Chairman of the Jeff County Education Accountability Commission and Lakewood on Parade celebrations (serving as the Grand Marshal one year) and several catholic charities. His "St. Patrick Day" parties were legendary for many years in Lakewood.
Along with his passion for his family and business he was passionate about his life­ long golf game which he continued to play until age 89 at Lakewood Country Club. His accomplishments in golf included seven Holes in One. An Irishman through and through Bart was also known as an occasional self-styled Irish philosopher on the 19th hole after a game of golf where many of the world's issues were debated.
Survivors include (oldest to youngest) sons: Shawn, Bryan (Stacy), Patrick (Kelly) and Brett (Brenda); daughter: Shannon (Joseph); grandsons: Jason Runung, Kris Runung, Bart, Ryley, Timothy, and Matthew; grand­ daughters: Janine, Kimberly Badillo Warren, Nikki, Katie Renee, Cathleen Badillo, Katie and seven great grandchildren.
---
About the Society
/ Board of Trustees / Historical Articles / Home Page
Meetings / Membership / "Sheridan Celebrates" / Other Links
Copyright © 2015 by the Sheridan Historical Society
All rights reserved