Dorothy C. Dalquist
August 4, 1934 - May 23, 2015
This article was included in the "Sheridan Celebrates" booklet from September 26, 2015.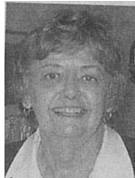 Dorothy C. Dalquist, a longtime Denver resident, passed away May 23, 2015, surrounded by her family. A native of Chicago, IL, Dorothy graduated from New Trier High School in Winnetka, IL. She went on to earn degrees from Smith College (Northampton, MA) and Northwestern University (Evanston, IL). Dorothy moved to Denver in the early 1960s and began a long career in the fields of newspaper reporting and public relations/communications.
Sheridan residents could always count on good articles regarding their community when in her columns.
She proudly worked for The United Fund (now United Way);The Denver Post; the City of Englewood; and the Colorado Department of Revenue, where she served as the Chief Information Officer until her retirement. A lifelong learner, she actively pursued additional education through the Denver University OLLI program as both a student and teacher.
A loving wife and mother, Dorothy married Carl R. "Rolly" Dalquist in 1963. Together, they raised three children, Maria (Lee), Christopher, and Karen (Gavigan). They enjoyed many years of doting on their seven grandchildren. Dorothy considered herself "to be so lucky to have such a great family", which included her in-laws, nieces, nephews, and their many children.
After more than 50 years in Denver, her extensive circles of friends also brought her great happiness. Dorothy was preceded in death by her parents; her brother William E. Kress, Jr., and her husband, Rolly.

---
About the Society
/ Board of Trustees / Historical Articles / Home Page
Meetings / Membership / "Sheridan Celebrates" / Other Links
Copyright © 2015 by the Sheridan Historical Society
All rights reserved