Adeline Czarny Adams
July 5, 1925 - May 17, 2015
This article was included in the "Sheridan Celebrates" booklet from September 26, 2015.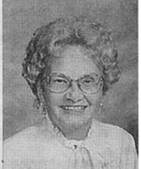 Adeline was born in Fergus Falls, MN, to Arthur Leonard Miller and Margaret Munger Miller. She attended Moorhead State Teachers College where, in her freshman year, she was recognized as one of the highest ranking freshmen.
She married Alex Czarny on March 12, 1947, in Chicago, IL. He had been a B-17 ball turret gunner in World War II. During the war Adeline worked for the Treasury Department in Chicago, and later worked for a radio station in Fergus Falls where she produced five programs daily.
Adeline and Alex moved to Denver in January 1949 and bought a house in Englewood on Elati Street. They began building a new house in 1956 in Englewood. When time allowed they enjoyed camping in the mountains and square dancing. In later years, they enjoyed traveling to many places, especially to Hawaii and Mexico.
In 1965, Adeline began a 25-year career as a bookmobile librarian on the "Roadrunner" for the Englewood, Colorado Public Library, where her passion was inspiring children to read. By the time she retired, the "Roadrunner" accounted for roughly a third of the entire library's 300,000 circulation. She was also a volunteer story teller for the Englewood Public Schools until 2006. She was known for her hand-made puppets and puppet­shows.
[Webmaster Note: The "Roadrunner" made weekly stops at Sheridan Schools.]
She was a faithful member of Englewood Presbyterian Church. Adeline was predeceased by Alex, her husband of 40 years; her second husband Dearl Adams; daughter Susan Kay Czarny; stepson Darryl Wallace Adams.
She is survived by her son Alan (Linda), granddaughter Alia (Greg) Mancari and great-granddaughters Evie and Violette. Also surviving are her sister Mary Holo, brother Robert Miller, stepson Darwal Adams and his family, as well as a host of nieces and nephews.
---
About the Society
/ Board of Trustees / Historical Articles / Home Page
Meetings / Membership / "Sheridan Celebrates" / Other Links
Copyright © 2015 by the Sheridan Historical Society
All rights reserved