"Sheridan Celebrates"

2017 Grand Marshal

This page updated: June 2, 2017.
---
Tina Mason
By Jean Ray, Live Joi Communications
Sheridan Volunteer Named as Parade Grand Marshal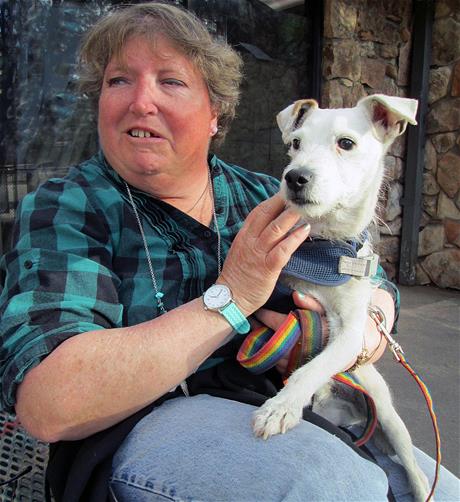 Tina Mason volunteers some of her time at the Sharing with Sheridan Food Bank, which is open to the public every Thursday at Sheridan Recreation Center, 3325 W. Oxford Avenue. Tina stocks shelves and assists clients with selecting food. She also helps by taking groceries to cars for loading. Tina shares that she enjoys volunteering because "I meet and help people and get to know my community better." However, Tina spends most of the rest of her time outdoors in the Sheridan parks walking her perfect, petite pooch, Jack. Tina moved to Sheridan about six months ago to live with her sister, Jan Zarek. Jan has been in the community for over eight years. Tina is very enthusiastic about the several parks that are well within walking distance of her home including Sheridan Community Park, Veteran's Park and Centennial Park which encompasses a lovely lake.
Tina's furry companion, Jack, is also very enthusiastic about the neighborhood parks. At age seven, Jack is very alert and fancies being active. Whereas Tina enjoys the amazing Colorado sunshine and the sounds of nature she experiences when outdoors, Jack likes the excitement and challenge of chasing squirrels. "Jack is just crazy about squirrels! He nearly climbs up the tree to get at them," explains Tina. "He is so entertaining and makes people laugh with all his chasing around." Tina takes great pleasure in sharing the antics of her fun, little pup.
Tina also takes great pride in the legacy that her family holds at the local VFW Post 9644. Tina's dad was a longtime member and WWII veteran who has now passed away. Her mom, also deceased, was a member of the Ladies' Auxillary. Additionally, the rest of Tina's existing family belong to the VFW. In addition to her service at Sharing with Sheridan Food Bank, Tina volunteers time to help with food service at Post 9644.
Tina is pleased to be named the 2017 Grand Marshal of the Sheridan Celebrates Furry & Feathered Friends Parade that will take place on Saturday, September 30. "I was shocked when asked, but I am very happy that more people will get to know my dog, Jack."

---
Past Year Themes and Grand Marshals
About the Society
/ Board of Trustees / Historical Articles / Home Page
Meetings / Membership / "Sheridan Celebrates" / Sheridan Schools / Other Links
Copyright © 2017 by the Sheridan Historical Society
All rights reserved.